you are cornflowerblue
#6495ED

Your dominant hues are cyan and blue. You like people and enjoy making friends. You're conservative and like to make sure things make sense before you step into them, especially in relationships. You are curious but respected for your opinions by people who you sometimes wouldn't even suspect.

Your saturation level is medium - You're not the most decisive go-getter, but you can get a job done when it's required of you. You probably don't think the world can change for you and don't want to spend too much effort trying to force it.

Your outlook on life is bright. You see good things in situations where others may not be able to, and it frustrates you to see them get down on everything.

the spacefem.com html color quiz
Your rainbow is strongly shaded
gray.
What is says about you: You are an elegant person. You appreciate tradition and wisdom that comes with age. You depend on modern technology and may feel uncomfortable without it.
Find the colors of your rainbow at spacefem.com.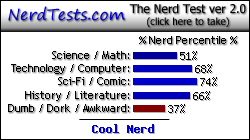 This page is protected by a
BUTTERFLY
The Large Blue butterfly is a species of carnivorous butterfly, and went extinct in Britain in 1979. It has since been reintroduced with new conservation methods.
Want your own? Visit hekate.neocities.org!